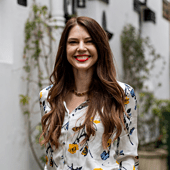 Meet Tiama, Minna's New CPO
We are happy to present Tiama Hanson-Drury, our new Chief Product Officer starting later in April. In her role at Minna, she will be responsible for our global product and design functions, taking our team and products to new levels.
A few things we love about Tiama is her passion for people, equality and her approach and track record of enabling growth. We know she will add new exciting dimensions to Minna and to our executive team which she is a part of.
Tiama originally comes from Seattle in the US, but now lives in London together with her two Pomeranians, Teka and Tarquin.
Before joining the Minna family, Tiama had been leading Insights & Research product teams at Consumer Data Platform company, Dynata and Enterprise Research Platform company, Zappi. We believe her extensive experience in product-led growth, together with her passion, energy and leadership skills, makes her a perfect fit at Minna.
We also love her active commitment and passion for diversity and involvement in the development of mentorship and diversity efforts at both Kantar Profiles and Zappi. More recently she co-founded a professional development program for Women In Research (WIRe), Accelerate. She also served as the Executive Partner for Executive Diversity & Inclusion at Dynata.
At Minna, we believe that the best always lies ahead of us, and as the future evolves, we are committed to one thing: Improve the lives of people all around the world, with simple and great subscription management solutions.
To welcome Tiama and get to know her a bit better, we asked her about how she will add flavour to the mix.
In all the situations we have had the chance to meet you, you are always positive and inspire the people you meet, tell us what are some people or quotes that keep you motivated and on track?
– There are so many things and people that inspire me. Personally, I try to always live by Margaret Mead's words "Never doubt that a small group of thoughtful, committed, citizens can change the world. Indeed, it is the only thing that ever has."
On a more professional note and as a leader of others, I also believe leadership is a choice, not a rank. That is something Simon Sinek first shared in a Ted talk way back in 2014. I try to embody and promote that.
One person that really inspires me is Barack Obama. Love the guy. If only Michelle hadn't come along before me! <3
All of us get our inspiration and input from somewhere, tell us what is your current Media Diet?
– When I lived in the states I listened to a ton to NPR. Other than that I am heavy on political podcasts as well as several product ones, including the one I host (For The Love of Product). I also regularly read The Economist, The Week, FT and Fast Company. For weekly content, I am a HUGE fan of Product Led Alliance, OpenView Partners' Blog, and the daily newsletter, The Hustle.
During the spring you will start working at Minna, what is it that excites you about the company?
– There are four reasons why I chose Minna. The company mission, the aligned growth strategy, the growth leadership experience, and last but not least the company culture!
I'm most passionate about building out the Minna product growth engine. To do that I have to provide clarity of our product vision, strategy and tactics. I also need to ensure we reinforce Minna's culture of psychological safety, drive and measurement. I promise to be relentless in my focus of helping my team become fully empowered and as a result, delivering that growth engine.
As Minna's new CPO, how will you enable change, creativity and kick-ass development in a product team?
– I believe it's important to create a compelling and shared product vision that motivates the entire business to execute its strategy. Then we can be disciplined in pursuing it. Next, it's about enabling diversity and inclusivity so that we can harness many different points of view on the problem to be solved, and the best way to solve it. Lastly, it's important to coach people through the process of growth and development as well as celebrating progression- both the wins and the learnings.
Tell us about one of your hidden talents few know about?
– One of the things I love to do is to draw, and I am actually fairly good at it. I think of drawing as another language I speak because you can often communicate with visuals in a way you can't with words.
What would you tell your younger self right now?
– You are qualified and capable; it's more important to be brave in pursuit of new things than to wait until you feel perfect at something to try and take it on.
At Minna, we talk about "Bring Life to Work". We only have one life and how do you live a life where it all fits together?
– I make sure I'm able to find passion in what I do. This makes it feel less like "work" and more like a fun project. For life, I take every vacation day, and I don't feel bad about saying no to meetings when I really need to prioritize my personal life.
The amounts of subscriptions per person are increasing rapidly, tell us what would your ideal Subscription look like – existing or yet to be created?